Sterling Silver Chain
If you are in other styles of silver chain, please visit our sister site at www.internationaljewelrymarketing.com. This site features all gauges of box chain, snake chain, square snake chain, bead chain, herringbone, figaro, marine or flat marina, curb or cuban, fancy small chain, and much more.
Buy in quantity and save - you can mix lengths of the same chain to get the quantity wholesale discount price on silver chains. For instance three 16" box chains and three 18" box chains will give you the 6 piece discount price for box chains. All six chains do have to be the same style, though for this discount.


Wholesale sterling silver chains. This box chain is by far the most popular choice for a general
sterling silver chain that will hold up well.
015 Box Chain - .9mm
16" 1mm Box Chain
Buy 1 for $6.50 each
Buy 6 for $6.00 each
Buy 12 for $5.40 each
18" 1mm Box Chain
Buy 1 for $6.75 each
Buy 6 for $6.25 each
Buy 12 for $5.70 each
20" 1mm Box Chain
Buy 1 for $7.50 each
Buy 6 for $7.25 each
Buy 12 for $6.60 each
22" 1mm Box Chain
Buy 1 for $8.50 each
Buy 6 for $8.00 each
Buy 12 for $7.20 each
24" 1mm Box Chain
Buy 1 for $9.15 each
Buy 6 for $8.50 each
Buy 12 for $7.80 each

30" 1mm Box Chain
Buy 1 for $11.00 each
Buy 6 for $10.25 each
Buy 12 for $9.60 each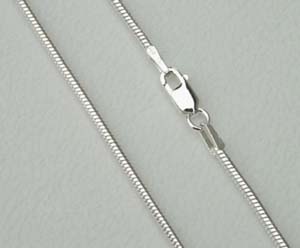 Wholesale sterling silver chains
020 Round Snake Chain with lobster catch - .9 mm

16" 1mm Round Snake
Buy 1 for $9.50 each
Buy 6 for $8.50 each
Buy 12 for $7.50 each
18" 1mm Round Snake
Buy 1 for $10.25 each
Buy 6 for $9.25 each
Buy 12 for $8.25 each
20" 1mm Round Snake
Buy 1 for $11.25 each
Buy 6 for $10.25 each
Buy 12 for $9.25 each
22" 1mm Round Snake
Buy 1 for $12.25 each
Buy 6 for $11.25 each
Buy 12 for $10.25 each
24" 1mm Round Snake
Buy 1 for $13.00 each
Buy 6 for $12.00 each
Buy 12 for $11.00 each

30" 1mm Round Snake
Buy 1 for $15.75 each
Buy 6 for $14.75 each
Buy 12 for $13.75 each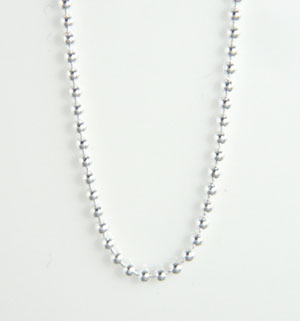 Wholesale sterling silver chains
Sterling Silver 150 Bead Chain - 1.5mm
14" 1.5mm Bead
Buy 1 for $9.80
Buy 6 for $8.80
Buy 12 for $7.80
16" 1.5mm Bead
Buy 1 for $11.00 each
Buy 6 for $10.00 each
Buy 12 for $9.00 each
18" 1.5mm Bead
Buy 1 for $11.90 each
Buy 6 for $10.90 each
Buy 12 for $9.90 each
20" 1.5mm Bead
Buy 1 for $13.10 each
Buy 6 for $12.10 each
Buy 12 for $11.10 each
22" 1.5mm Bead
Buy 1 for $14.00 each
Buy 6 for $13.00 each
Buy 12 for $12.00 each
24" 1.5mm Bead
Buy 1 for $15.20 each
Buy 6 for $14.20 each
Buy 12 for $13.20 each
30" 1.5mm Bead
Buy 1 for $18.50 each
Buy 6 for $17.50 each
Buy 12 for $16.50 each